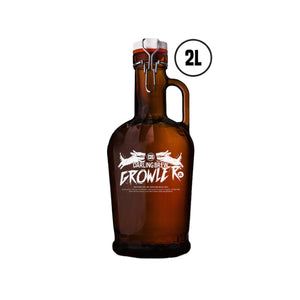 Darling Brew 2L Growler
Amber Glass  •  2 Litre • Imported Glass Growler
Keep your Beer Fresher, Longer in our Glass Beer Growler.
Got an awesome brew you want to share? Going on a picnic and don't want to lug around a bunch of bottles or cans? We've got you covered. Our two-litre flip-top growlers are high-quality vessels designed to preserve the taste and freshness of your craft brew. Our classy Growler is a great way to transport your favourite brew without losing flavour. An ergonomic design makes it easy for you to carry a generous portion of your favourite brew all the way home. The flip top lid on our glass growler has a porcelain top and a rubber gasket for a nice, secure seal - keeping your beer fresh longer than a screw top!
INSPIRED BY THE African Wild Dog

Lycaon pictus, meaning "painted wolf" referring to the irregular, mottled coat, which features patches of red, black, brown, white and yellow fur.